 The internet has sure been fun these past days (nearly ran out off popcorn) right about now we should have all heard about the Social media beef that went on between the talented artists Kanye West and Wiz Khalifa (hopefully it has ended now, no more need for pettiness please). We have decided to put this so called beef to good use for STREETWEAR STYLE BATTLE. So on the floor today we have Wiz Khalifa and Kanye West battling on whose streetwear rating is more stylish than the other.
Wiz Khalifa is one of the most enthusiastic masher up of high and low fashion wear and we will be going through some of his greatest style hits to see where he might have it over Kanye West.
Wiz has always had a keen eye when it comes to fashion, he started off with sartorial experiments that were towards more of a relaxed skater gear and tanks that showed off his body art…Pretty good start if we must say.
Through the years the Pittsburgh rapper has developed his creativity in streetwear, and it has simply effortless. He has adopted an aura of relaxed amusement and been able to breeze through his busy schedule of shows and parties looking like an absolute winner at all times. His attitude towards not taking style too seriously, has given him so much freedom and creativity towards his style, by transforming a few key items into an arsenal of admirable outfits.
Ye started off as the wiz kid for Def Jam/Roc-A-Fella in the early 00s and became the fresh-faced producer straight outta Chicago, in terms of fashion style, West had the standard hip-hop uniform of oversized baggy tops and jeans, throwback jerseys and Adidas Superstars. Pretty poor start here, so we can definitely say that Wiz was high above him at his age in terms of fashion, sorry Ye.
Between his Late Registration and Graduation albums, is when we could say Yeezy's look was heavily influenced by streetwear and high-end designers, this was the turning point in his status as a style icon, especially among the sneaker community. Pastelle was Kanye's streetwear brand that never happened, however his footwear designs have been impressive. Through the years, his emotions, life experiences, both sad and amazing ones have all created Kanye and moulded him into an all-rounder in fashion and right now we can definitely say that Kanye has found and developed in style in streetwear.
Wiz being an army brat has toured the world before settling in his beloved Pittsburgh, his upbringing has probably been of influence to his diverse dress sense, they incorporate elements from the worlds of hip-hop, the skate scene, sportswear, punk, and high fashion amongst others, though it might seem weird, it still works. 
Wiz might be highly known for his high skills of creativity in casualwear, but the rapper brings strong deconstructed formalwear to the floor too, like here with his excellent pairing of a crisp white shirt 
matched up with a
white bomber jacket
,
ripped jeans
and complemented by black Chelsea boots.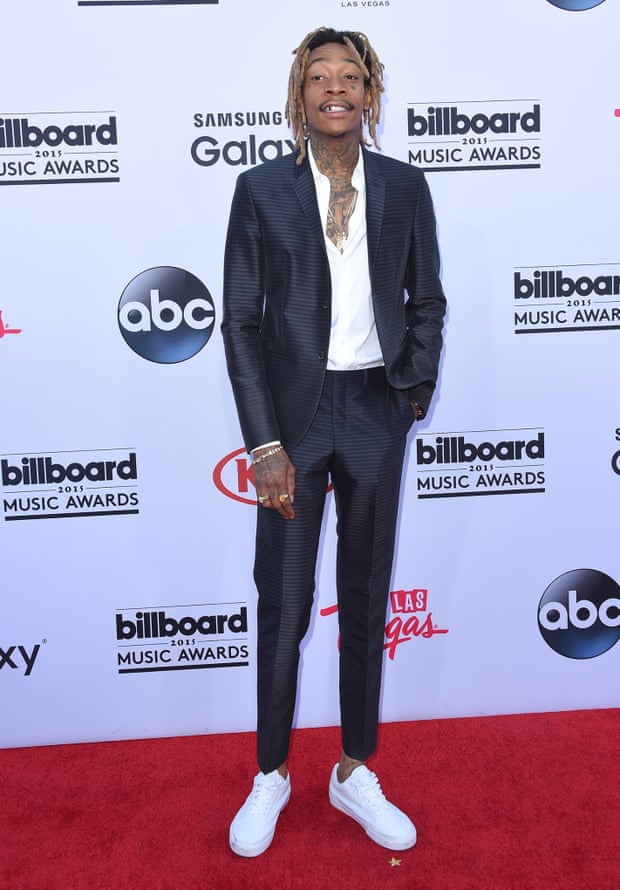 Wiz Khalifa is one who has fun with everything he does and his influence in style has definitely not been left out, from his simple, casual cool, to his love for a dandy affectation, experimented hairstyles, his new specs, and his surprises-like his minimalist and fresh take on smart wear. That is what we all love about Wiz, the fact that he does not take his style seriously and just has fun with what he wears, that is what keeps us engaged and excited for more. Khalifa takes risks and pulls them off effortlessly, even Kanye finds his sense of style in fashion interesting and might be taking in on it (who knows).
From what we have observed from Yeezy through the years, Kanye is an observant and attentive learner who has become the leader, his experience in wide ranges of style has moulded him to a well-rounded individual with a lot of experience. Kanye has paid attention to every single thing around him, taken them in, been influenced by them and made it into his own like a true artist. From all his hyped sneaker collaborations and designs and now his own fashion label. Kanye has made excellent and creative entrepreneurial moves in fashion, he has paved ways for designers, made a lot of money in the bank for certain labels and has been of high influence to the fashion scene, particularly streetwear.
From all the points made here, we have to say Kanye wins this round, sorry Wiz but though Ye has his crazy antics, which always tend to be public, we still look up to him for his mark in fashion and as a music legend.
Share your thoughts, Kanye West or Wiz Khalifa?